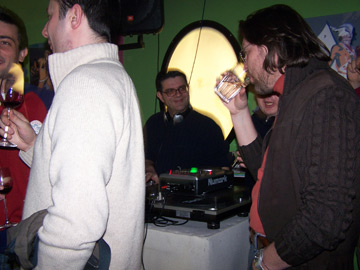 Ritual and symbolic meaning and purpose of the dance is various and manifold. We could perceive it like imaginary link that connects rituals of primal and early cultures and civilization to our technologically structured, postmodern and postindustrial society where dance, like creative excess of value indicates domain of art and widely comprehended entertainment, becomes one of the basic determinants of popular culture.
Primary magic of the dance by which in primal societies throught scene, music and choreography of the movement and rhythm – cyclical trance – one can call out the rain, love, success in hunting, fertility, fruitfulness and likewise, in our time, if we saw human like urban animal (accordin Desmond Moris) which didn't loose its strenght and function, and preserves itself in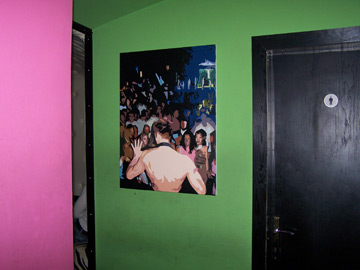 club's party trough ritual - Sound&light atmosphere – seducing, showing, revealing, in one, mostly audio visual, comunication of the spirit and the body.
Young Zagreb's artist Diana Simek on her first club exibition connects the real ambient and atmosphere of the Fanatic with suggested and mainly hot atmosphere and her emphasized paintings on which she, we could say, carefully analyses subject of the dance. The artist is actualy aware of new media value – she saved pictures from the internet in scene of club's dancing, processed in computer and, throught perspective grid, paited with acrilyc on canvas.
Frozen moment, gesture of the face and the body, sensuality and erotism of human dance throught transformation of everyday into more spectacular, phantasic, fantastic and attractive roles are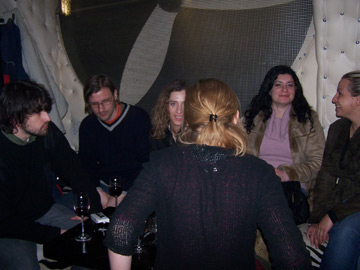 indirectly and directly suggested on author's painting throught satiated digital ilusions: music, exsident touch, lightening effects and continues motion. That's accomplished with dinamyzing of frozen moments through contrast and graduation of coloured and filtrated lights and shadows which represent body-movement- space like infrared annealing of the warmth that reflects different parts of composition. From mistic egyption dances, over ecstasic and shameless greek dances to the animal-magic african and contemporary techno-ritual, dance extends material limits and through passion, charm and dancer skills symbolizes deliverance – this is how it is displayed on Diana's paintings – of individually caused restriction. Let' Dance.
Zeljko Marcius